BEFORE you Register with KMSD!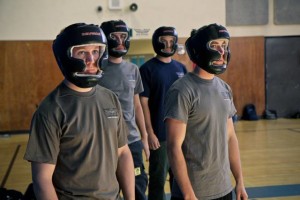 Krav Maga San Diego has been the choice for serious self-defense and defensive tactics training for over 32 years, and is committed to extreme ownership in all of our Krav Maga operations. If you see a problem, let us know.
We train a wide variety of different types of people, including a significant number of Military personnel; Law Enforcement Officers; and Firefighters / Paramedics.
Women who have been crime victims are routinely referred specifically to Krav Maga San Diego by local Law Enforcement agencies. KMSD has a high proportion of female students looking for realistic self-defense training.
All students at KMSD must be certain in advance that they are looking for realistic Krav Maga. Otherwise, those just considering joining any "krav maga" school should be able to find another place (usually with automatic billing; contract; or "package" memberships) offering the typical corporate "McDojo" franchise version of krav maga designed more for fun and fitness;  barefoot sportfighting; and "being part of a social group". KMSD does not offer this type of recreational or sport training. 
Regular classes during the 4 or 8 week sessions are for ages 16 and up; younger students attend periodic Teen Krav Maga and Kids Krav Maga Workshops / Seminars. Women's Self-Defense Workshops / Seminars are open to ages 13 and up, unless they include the Weapons Module, in which case it's ages 16 and up.
16 and 17 year old students interested in the regular class should visit several classes with a parent / guardian before deciding to join a session. Anyone wanting to visit should just follow the instructions on the FAQs page. Before registering, minor teens will be interviewed in person by an Instructor. Any teen whose parent is attempting to force them into class will not be admitted to KMSD.  
KMSD Private Training registration, application, and payment process must be completed at least 5 business days before the 1st Private Training session takes place. There are no exceptions to this policy. Private Training is open to all ages.
NOTE: If you are going to visit other krav maga schools, which we recommend, please come see KMSD last.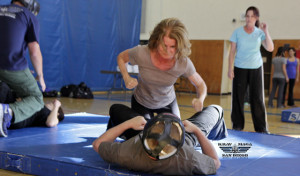 Be aware of what you are signing up for.
Read this page carefully. If you're not patient or mature enough to read through important text then this is not the program for you.
Whether you know you can step up to our level of training, or, you don't think you'd be able to meet the challenge of training with Krav Maga San Diego: you're probably right. KMSD is not part of a corporate franchise system; those businesses are designed for two main things, in order: 1. to make money for the franchise company, and 2. to make money for the business owners. KMSD does not run a "martial arts" class for "fun"; we are not a kickboxing gym practicing combos to focus mitts on a padded mat floor while barefoot; or a jiu jitsu dojo / wrestling school where students roll on a mat in a gi. We don't offer "fitness challenges" or weight management programs or kids "summer camps" or "everybody-pays=everybody-promotes" training camps. We are not a casual training program for older, physically challenged students seeking recreation with a "familiar group" after commuting home to the suburbs at the end of the day. Our Instructors are not "hobbyists", nor living off the money they make teaching Krav Maga. There is nothing wrong with any of those types of places. But they are not real Krav Maga. We are.
NOTE: there are NO REFUNDS for fees paid.
Your first session is your Indoctrination class.
This is a voluntary program. You can Drop On Request (DOR) at anytime. Students who DOR often return to KMSD to join a later class. If you simply quit and walk out of class, you are done with KMSD.

If you get rolled back for medical reasons you'll receive a credit for a future Class (session).

There are no refunds. Please don't ask.
After completing your first 4 or 8 week session as a KMSD New Student in Level 1, you will enter a training pipeline as a Continuing Student in Level 1. There you will more fully absorb the basic, important, fundamental techniques, tactics and procedures (TTP's) of Krav Maga San Diego. This will include, but not be limited to, skill sets in both combatives (fighting with kicks, punches, knees, elbows, including ground-and-wall work), and self-defense (defending against, and escaping from, chokes, headlocks, bearhugs, including both while standing and when on the ground / wall), as well as defenses against weapons, and multiple attackers.
Then, after you are evaluated "ready" by the Instructors, usually after completing two or three 8 week sessions, you'll be invited to test for Practitioner 1. Workshops and Exams with KMSD are not like the "tests" at most other corporate franchise krav maga locations, whose "exams" currently lack the necessary validity to be recognized by KMSD. Many of their students and instructors are there simply because they could no longer maintain the high training standards of KMSD. Which is fine. There is room for other styles of krav maga training. Just not here.
Students who successfully pass their KMSD Practitioner 1 Exam will be evaluated by the Instructors and most likely be invited to join Level 2 training at that time, including Level 2 Physical classes. No student should enter Level 2 Physical classes without having viewed several entire Level 2 Physical classes.
Students who successfully pass their KMSD Practitioner 4 Exam will be evaluated by the Instructors and will most likely be invited to join Level 3 training at that time.

Testing is voluntary at KMSD.

Once you've completed a 4 or 8 week session of training with Krav Maga San Diego, you will always be a part of KMSD. If you return after an absence, you're still a "Continuing student". Forever.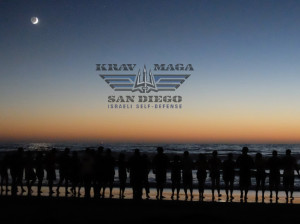 Class Responsibilities
Be on time. That means arrive early to deal with any parking challenges. If you are late you will likely earn extra training (no extra charge). It is still better to be late than to miss class. If you have a reason why you know you'll be late, let the Instructors know ahead of time. Always plan to stay for the full class but let the Instructors know if you have a reason you'll have to leave early. If you cannot emotionally handle military-style discipline please DO NOT register for KMSD training!
Be familiar with the FAQs on the website.
Update your Student Training Log (STL) after each class. If you are not invited to a Workshop / Exam, and you request an invitation, you must be prepared to supply a copy of your STL. If it's not complete, please don't ask to test in the first place.
Dress appropriately – athletic shoes, long dark pants (Contact us for recommendations after you are a registered KMSD student – we get a discount on 5.11 Tactical products), white-based t shirt (KMSD shirt please, available to KMSD students only, both in class with an Order Form, or on our Shop page).

Bring a positive training attitude.

After you have gotten your handwraps, or if you already own a pair, wrap up before class starts, not during lineup.
Level 2 / Level 3 students should bring all of their gear to every class. All gear purchased outside must be inspected by an Instructor prior to it's use in class.
Be alert when training. Safety is our absolute #1 priority.
Following directions is part of Krav Maga.

You are responsible for your actions; be a leader and help others in class who need it. Next time it will be your turn.

Look out for each other. The Class is a Team; work together as a Class and you'll learn together, and from each other. Look around at what everyone else is doing, especially if you're not sure what to do.

Begin to build your reputation, today, as a Krav Maga San Diego student. Someday, you may be a KMSD Instructor. Every one of our Instructors started here, including Class 0.
If you have a question, ask.
If you want more Leadership Opportunities, such as leading warmups, helping with the class setup, etc., ask.
If you want to join a Special Team (Demo, Competition, etc.), ask.
"Students are expected to demonstrate the qualities and personal characteristics of determination, courage, self-sacrifice, teamwork, leadership, and a never-quit attitude".